BURKINA FASO, WEST AFRICA
Click on a picture for a larger size.
NOTE: These pictures represent a trip I took with my mother and grandparents to Burkina Faso, West Africa where they were missionaries. It was their first time back since the 70s and my mother's first time back since leaving at the age of 16. I played the part of impressed son/grandson as well as avid photojournalist.
Burkina Faso village.
Young girl
One
Young girl with food
Boy with tire
Old woman
Young girl
Young boy
Village glimpses
Young boy
Village glimpses
The Gods Must Be Crazy
Bath time
Playing hard to get
Benjamin with food
Shy boy
Woman with child
First balloon
Village
Young girl with tama seeds.
Young man
Girls
Kids
Brothers
Young girl and her sister.
Boys
Children
All smiles
Drummer
Old man
Young boy
Young woman
Woman with baby
Old man in traditional hat.
Little girl
Colorful girl
Building a church
Young girls
Desperate to see inside church.
Man with tribal scars.
Doing laundry
Young boy
Lots to carry
French fry?
All giggles
Young woman
Burdened family
Looking back
Young woman
Young boy
Dirty boy
Sisters
Young woman in a crowd.
African woman.
Young girl against washed-out sand.
Boy at play.
Old man by tree.
Old man with beard.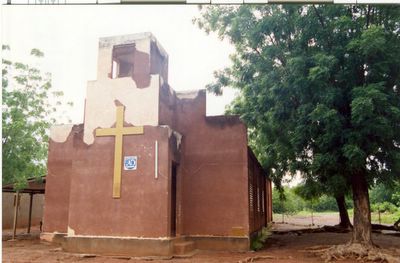 The Boromo church
My grandfather kneels beside the cornerstone of the Boromo Assemblies of God church, one of dozens he built.
Reuniting with their former housekeeper.
A man shakes the hand of my grandmother while holding a bookmark of she and my grandfather from four decades earlier.
Church service
Grandpa
The matriarchs of the family.
My mother sees the house she grew up in for the first time in over 40 years.
Sometimes it's the simplest things that entertain the kids.
Mr. Paparazzi
Too bad there aren't more opportunities to wear this.
Missionary grave marker, overrun by flora.
Now there's something you don't see everyday.
Tracking animals through the game reserve.
Where The Wild Things Are
Where The Wild Things Are II
Croc
Titanic of the jungle.
On safari